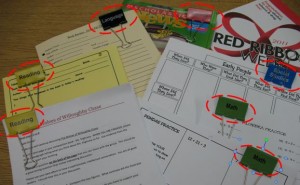 If like me you are always photocopying notes for Art or Art History, it can be hard to keep all your notes separate but easy to distribute. These clips would save heaps of time as they are labeled on the front, back and sides, so no matter which way you look at them, they still show the label, super oraganized! Thanks to Kim at http://joyin6th.blogspot.ie/2011/10/cute-clips-copy-organization.html for this great idea, I love it!

Not sure if there is any where in Ireland that would sell these but I figure maybe a solution is printing off the subject or class and sticking it to the bullclip, maybe cover it with clear contact to protect the paper.
Anyone got any better ideas?