Yesterday I went to the Sculpture in Context exhibition in the National Botanic Gardens,Glasnevin, Dublin 9 (3.5 km from the centre of Dublin City). This annual event is the largest outdoor sculpture exhibition in Ireland and runs from 5th September to 18th October, if you are in Dublin during this time, I highly recommend going to see this it. The exhibition showcases 150 artworks made from a wide variety of different media by both Irish and international artists. These artworks are displayed throughout the 50 acre gardens, the glasshouses, Great Palm House, the pond and the gallery space above the visitors' centre (which displays the Smaller pieces).
The Sculpture in Context exhibition always attracts thousands of visitors especially art students from both third level and secondary schools. It is of particular interest to 5th and 6th year students who often use this exhibition to write about in their final year Art History exam under the Appreciation Section which frequently asks students to write about an art exhibition they have visited. Students also draw from the sculptures and take photographs to use as visual sources for their practical work.
Among favourite Piece was by Dublin sculptor Lucy O'Higgins' called Tree snails. These consisted of 5 really cool large scale snails made from fused plastic bags strategically placed in two trees. I loved the solid shape these had and the fact that each snail had a different pose as if shown at different stages of climbing the trees.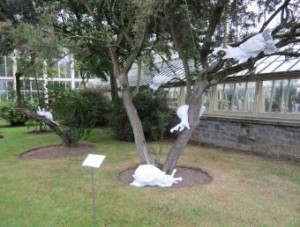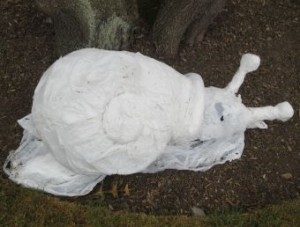 Another outdoor piece I liked was Untitled by Lynda Christian which consisted of about 17 brightly coloured orange metal flowers. These were made from large catering size tin cans cut, shaped and riveted together into the flowers heads. These pieces were then painted primer and enamel paints. I really like the idea of using recycled materials to create something so beautiful as these flowers, they also brighten up the grey walls of this location which also makes them stand out.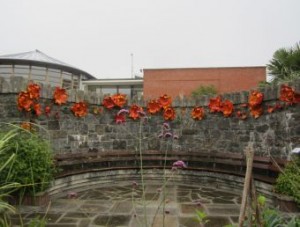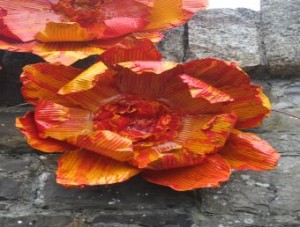 Indoors I liked Jonathan's Flock by Dublin textile artist Ciara Foster. It consists of a flock of 5 birds made from mixed media. These were really lovely and to scale of real birds. I loved the variety of materials used such as wood for the beak.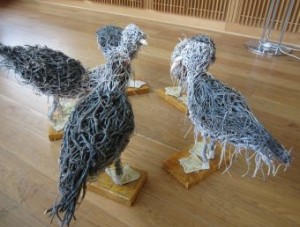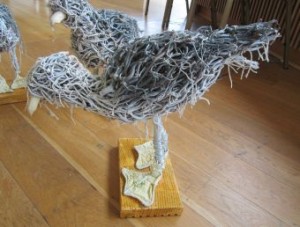 I think this would be a great idea to try in the classroom and to get students to think of drawing not just on the traditional flat surface that they are used to. If anyone has ever tried this project or something similar to this with a class, feel free to leave a comment, thanks, Ruth 😎