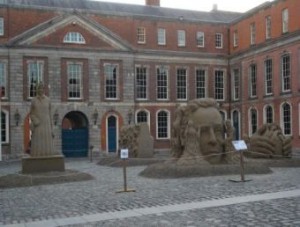 Today I went to see the 'The Bright Side' annual sand sculpture exhibition in the courtyard of Dublin Castle which focuses on what is good about Ireland and being Irish. It is created by a group of three Irish sculptors (Daniel Doyle, Niall Magee and Alan Magee who are all graduates of Fine Art Sculpture from the DIT) called Duthain Dealbh (pronounced [du-hawn dah-liv] in Irish), meaning Fleeting Sculpture. The group who have worked collaboratively together since 2001, specialize in sculpting ephemeral materials of sand, snow,ice and fire and have attended sculpture festivals all over the world.
I was unfortunately away when the artists started the live carving of the sand sculptures on the 29th of July – and lasted 7 days but I did see them sculpting the sand last year and it is really exciting to watch the forms being built up. This Sand Sculpture Exhibition which attracts thousands of visitors went on display from August 5th and will remain on display until the 27th of August. If you are in Dublin during this time, I highly recommend going to see this work.
My favourite piece is 'Character Building' by Daniel Doyle I really like all the fine details, especially the eyes and the carefully sculpted hair. I think the cracks in the face emphasises how fragile we can be but still not break or fall apart.
Description: 'What doesn't kill you makes you stronger' Daniel's sculpture puts a positive spin on negativity. While we have plenty to complain about in Ireland, both in recent years and historically, it has made us who we are today. 'Character Building' doesn't try to hide the negativity but implores us instead, to embrace its potential'.