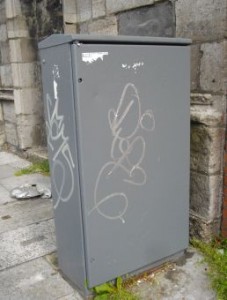 From my regular walks through Dublin city centre I started to notice that some of the normally painted dull grey traffic light boxes I am used to seeing had been decoratively painted. As you can see from the photo, traffic light boxes tend to regularly attract graffiti and stickers, which make them look bad and the council has to re-paint them on a regular basis which costs a lot of money. It turns out it's an initiative that started back in June by Dublin City Beta as a pilot program involving the painting of 11 boxes (Some have all sides visible, others are up against walls) in and around the Markets Area in the North inner city (from the river north to King Street and from Church Street east to Capel Street) with artwork. The brief was to design something that could be painted on a traffic light box that reinforced or enhanced the identity of that area of the city. Anyone could submit a design to Dublin City Council for consideration along with an explanation of why you think it strengthens the identity of the area , you don't have to be a professional artist or art student.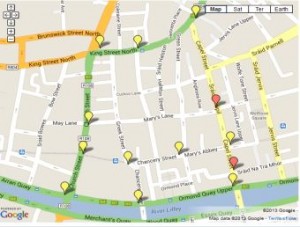 This map shows the location and allocates a number for each box so if a designer had a particular design for a particular box that highlighted an aspect of the history of a particular street or road they could state the traffic box required. The design also had to be considered 'art' or 'information' and not 'advertising' however it could mention the designers name/website/blog etc. at the base to publicise their work. In return, they recieve €111 towards materials as well as the opportunity to make their design a reality.
Below are some photos of some of the traffic light boxes that drew my attention while in town recently. My favourite traffic light box artwork is by Tarsila Krüse who is a Dublin-based illustrator, check out her website here. Her design is called the Dublin Harp Lady and is located on Fishamble Street (outside Christ Church) in Dublin 2. She chose a feminine figure to the represent Ireland and the harp to represent the coat of arms of Ireland. Also the colour Blue makes reference to Dublin colours. I love her cartoon style of illustartion and the contrast in colour between the harp lady and the dark blue background.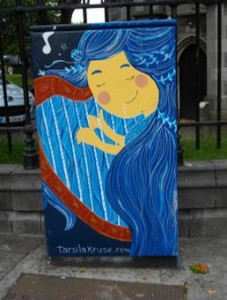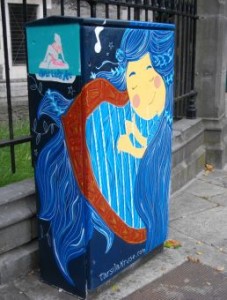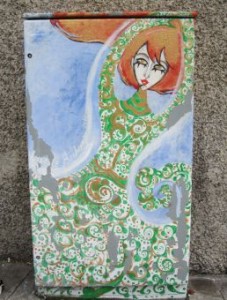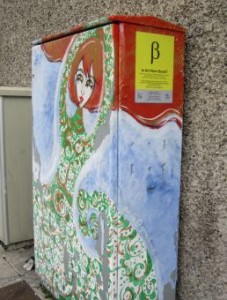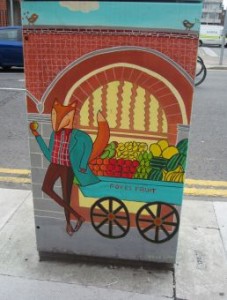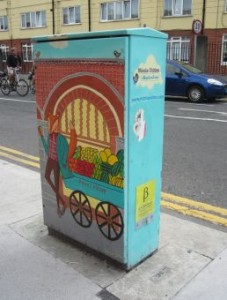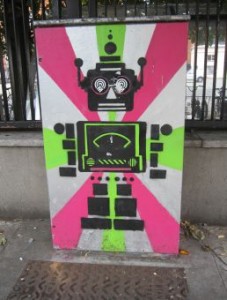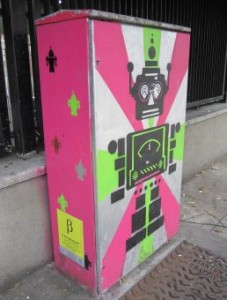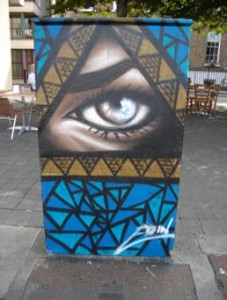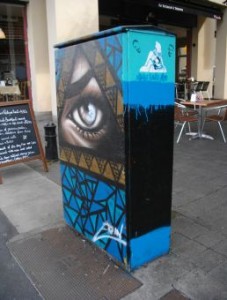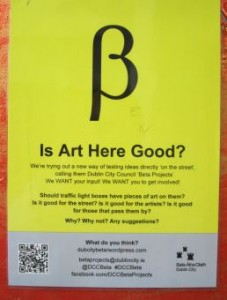 It is hoped that the beta project will save the council money and enhance the area. Each artwork will hopefully last for a couple of years but could be repainted grey at anytime and free again for new artwork submissions depending on feedback so the most important thing they ask for is your opinion. To find out more about this great initiative visit their Facebook Page here.
I think this project is a great idea it not only saves the Council money, it enhance the area, making it more attractive as well as providing an outlet for artists to exhibit their work. Wouldn't it be great to do something similar to brighten up the school grounds. Anyone ever try anything like this in their school? feel free to leave a comment, thanks, Ruth 😎