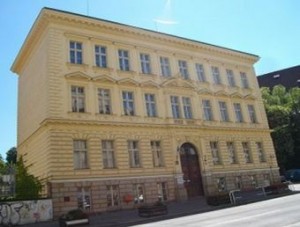 As an art teacher, I always keep an eye out for ideas for the classroom. I have just returned from my holidays in Prague. Here are some pictures of some really nice African masks made from terracotta clay that I saw displayed in the window of a school called 'Základní škola u svatého Štepána' which translates to 'Elementary school at St. Stephen's'.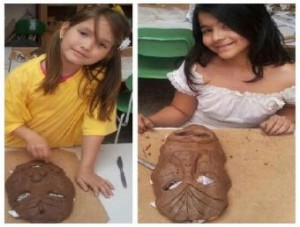 The masks were made by the 'školního klubu Keramická dílna' which translates to 'school ceramic workshop club' by students from 4th class (age 9-10). I see from their school website that they have some photos showing the students making these masks. It appears that they rolled out slaps of clay and rolled newspaper into a face shape to support the clay at the back. The surface was then decorated with relief pieces, textures and earth coloured slips.
I love the contrast in colour between the terracotta clay and the coloured slips applied to decorate the masks. This would be a great 1st year ceramic project that could be incorporated into portrait drawing to make it a bit more advanced for the age group.