On Sunday 14th July I attended the Sky Arts Portrait Artist Of The Year Festival 2013 in the RDS in Dublin. This was a free festival which included the Irish heat of the Sky Arts Portrait of the Year competition and was filmed for a Sky Arts 1 HD series to be broadcast in the autumn. It featured a range of free interactive arts activities including free portraits, portrait workshops and demos, sketching classes, mask making, face painting and multi-media art classes for adults and for children.
In the centre of the room in a circle split into 3 were the models: lethal bizzle (English musician and actor), David Rawle (Irish Actor) and Pauline McLynn (Irish actress, best known as Mrs. Doyle in Father Ted). Each model had 7 artists capture their subjects in their own individual way, it was nice to see all the works in progress as well as their source.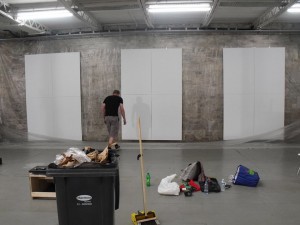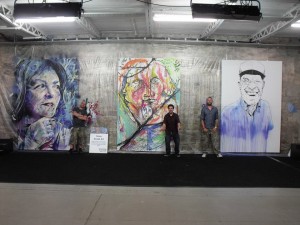 I was especially interested in the MURO STREET ART: Street artists Jonny Mc Kerr, Danilo Quo Vadis and Morgan each have very individual different styles.
My favourite was Jonny McKerr's portrait of Joan Bakewell (English journalist, television presenter) because of his free graffiti like style yet he captures a lot of detail.
The highlight for me apart from watching the competition with the artists all at work was the Dr. Sketchy's Anti-Art School (life drawing class turned cabaret/ Burlesque) which was definitely more interesting than your average life-drawing class! There were plenty of seats for people to sit and try their hand at capturing the unusual poses and themes of the costumed models. Themes including Lichtenstein-Pop Art, Mucha-Art Nouveau and Degas-Impressioinism. Each themed model did several poses for varying lengths of time. I think this would be a great idea for incorporating art history into life-drawing.